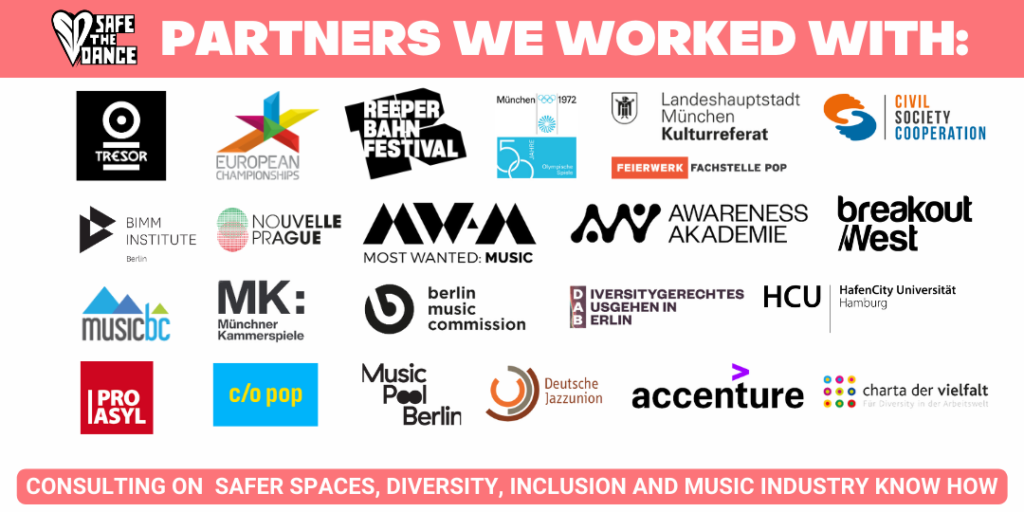 About Safe the Dance
Safe the Dance seeks to raise awareness about discrimination and diversity, making these topics accessible to everyone regardless of their prior knowledge. Our emphasis is on promoting a culture of learning while also encouraging people to take responsibility for mistakes and discriminatory behaviour. Marginalized groups experience discrimination like racism, ableism or sexism daily, no matter where they go. To prevent this as much as possible and handle incidents, we believe that every organization and event should have a safer space concept in place. Our intersectional and interdisciplinary team is well-equipped to examine your issues in detail and provide customized recommendations for you. We can help you evaluate your current diversity efforts, both on and off-stage, and identify ways to improve. Our range of services includes comprehensive packages starting with creating a code of conduct / safer space policy and help to implement it to on-site training and materials, individual workshops, all tailored to fit your needs and budget. We also offer workshops, talks, and can curate events, panels, think tanks, or hackathons for you. As our team has more than 10 years of music industry experience – from label services, to festival production and conference curation, we also offer music industry know how – always with social change at heart.

Workshops / talks / think tank topics
We can customize any of these topics for you and also combine them, providing the right input for your audience and needs.
Creating Safer Spaces an introduction (for organizers, musicians or guests)
Safer Spaces: How to handle incidents
Bystander & Allyship Training
How to diversify your booking and touring
How to get started: starting a band, booking tours, tour management (optional for women and gender minorities only)
Safety in and through collectives
Safety First: events and German event law (Hausrecht)
Diversity sensitive language and inclusive promotion / Language and diversity
Best practices IDE in the music industry
Empowerment for FINTA+ (Women, Inter, Nonbinary, Agender) in the Music (Industry)
Diversity in organizations and teams
Bodypositivity and Instagram
How to network & work collectively in feminist contexts
Noise as a Voice of Resistance
Squirt ain't pee – About female ejaculation
DJ* workshop for beginners with DJ double u cc
Concerts & events in public space & off locations
Grant proposal writing in practice
DIY Concerts and Events
Showcase Festivals 101
Tourbooking Focus Europe or Germany
More than just the music – on the importance of social change topics at festivals
Artist Career Mapping – How to built your career
Digital release strategies for newcomers (with/without label)
Want to know more – get in touch!